Today has been just one of "those days". Seemingly one thing after another. I won't bore you with the details, just the main ones :).
6:45 a.m. - I went to my car to put my bag and other stuff in there for the work day. When I opened my door, the main cabin light didn't go on. I also tried to unlock the doors. Again, nothing.
Looking back, I wasn't really phased by these two electronics not working. (perhaps it's because it was 6:45 a.m.)
6:50 a.m. Kathryn and I get into the car while E. J. finished feeding the horses. I start the car and again, nothing. All signs pointing to my car battery is simply, dead.
Back tracking to yesterday.
E. J. decided it was time to get the baby mustang horse, "Oh No", out of our pasture and brought to his mom's horse barn.
This is much easier said than done. After impressively lassoing the horse on the first try, Oh No, the 600 lb "baby" tried to run away. E. J. forgot to wear gloves which resulted in some serious rope burn. Ouch!
A few minutes later, he tried to put a halter on her and she wasn't into that either. She got up on her hind legs and kicked E. J. as she ran off. The poor guy; sore, a bit bloody, and tired from wrestling a stubborn horse, but he finally got her into the horse trailer so she could eat some de-wormer medication before integrating with the other horses.
Success!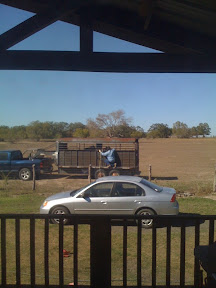 So with the combination of my car troubles, which thankfully it seems it's just my battery,
and E. J. getting needing some time to recover (especially since he never takes a sick day) we took it as sign that we should just stay home. On Sunday he even said he should take the day off because he was feeling pretty bad, but then decided against it so he didn't have to use any of his time. If only we had known the night before that we would definitely stay home, we would have slept in!
I did some cleaning to make myself feel somewhat productive. Kathryn insisted on helping and appears to have some great form when it comes to swiffering!
We all did some relaxing and even napped. We needed it!
It was nice to spend an unexpected day together.
But, it's been a long day. My bed is calling me to get ready for a new and hopefully a better tomorrow.
- Posted using BlogPress from my iPhone